Over the past year, we've built an ecosystem of partners to help deliver innovations for our clients in the world of cross-border transactions. Every one of these partners has a unique approach to technology, to their clients and to their business model. But what they all have in common is that they share the same philosophy and worldview that we do. It can be summed up in the memorable line by O'Reilly Media Founder Tim O'Reilly, "Create more value than you capture."
That line is important to us as we'd thought hard about what to look for in a great partnership. So why did we find O'Reilly's mantra more compelling than all the other ideologies we'd looked into? Well, we'd thought about other indicators of what makes a great partnership and agreed that they had merit. Here are some of the main ones:
Create ground rules for ongoing sales engagement
Ensure the partnership has commercial and strategic alignment from the outset
Have regular catch-ups between stakeholders so teams stay connected
Make sure there's the right level of Exec sponsorship
Yes, so far so good. Tick tick tick. But where is the chemistry? Where is that secret sauce that keeps a partnership fresh, challenging, and relevant for us and our mutual customers? What is it that drives partnerships to work and thrive?
Nothing seemed to make as much sense as create more value than you capture. This means you are in it to make things happen for other people. To be in a partnership for the long haul, not for immediate gain. To create more value for your customers than you will actually capture. Or more simply: to be more give and less take.
O'Reilly explained what gave rise to his motto (he has a way with words: he pretty much invented the term 'open source' and 'Web 2.0'). As a publisher in the early 1980s, he produced successful self-help books, how-to books and guides. Fast forward 15 years later he's at a conference of business leaders and meets a billionaire, head of a very well-known software company. The billionaire adjusted his glasses and said, "You know, I learned all I needed to start my business from one of your books. Thank you." The billionaire had started his empire using the know-how contained in a $30 book. O'Reilly summed this moment up with "you create more value than you capture."
This single statement got my mind ticking over and it dawned on me that, in those instances that saw the most active engagement between Currencycloud and a partner, where there was alignment from the first call, where there's been transparency and willingness from day one, it happened when we shared this ideological understanding.
Create more value than you capture.
At Currencycloud we lived and breathed this with one of our early (and current) clients Revolut, who accelerated as one of the early users of our services to create the business model they wanted. We've enjoyed watching them go to stratospheric heights.
With the right partners, we can do even more for our clients. Working with partners who have best-in-breed technology, thrive on intensive collaboration and create exciting innovations. We can help our customers increase their competitive advantage, giving them bespoke solutions to make the bold leaps that would not otherwise be possible.
It's why we wanted to create an ecosystem of like-minded partnerships that would use each others' expertise to accelerate their business and help others grow and prosper.
As in any ecosystem, if there's one player that's looking to extract more value than it puts in, such behavior cannot be sustained or tolerated by the surrounding community. The ecosystem itself won't have any longevity because less dominant participants simply won't be in it for the duration. Any discrepancy in your collective objectives or commercial alignment very quickly becomes exacerbated as you push forward with the partnership efforts. The remaining players will feel aggrieved and the partnership disintegrates.
So we knew that our partners had to be the exact opposite of this. They would need to embrace the ideology behind "create more value than you capture." We worked hard to find partners who could work in an ecosystem, together, to help drive change in the world of financial services. Of course, this has its challenges, but using best-in-breed technologies our partners can align behind a common goal and focus on what needs to be done to achieve something that lasts – something bigger than we can create alone.
Our partnership ecosystem has a name. It's called Fuse. Here, we have gathered truly innovative thought leaders and companies who are helping businesses large and small step into a new way of doing business. Our payment partners Visa, Dwolla, Carta Worldwide, Tribe, GPS and Moov all help our clients achieve more than they thought possible in the world of payments. Our banking partners Mambu, ThoughtMachine and Radius Bank ensure global opportunities for myriad clients. While our partners Elixirr and Accenture provide the consultative expertise to work around even the biggest of challenges.
Driving change in the world of financial services is always going to have challenges. Sometimes these challenges might even appear insurmountable at first glance, especially if they were to be tackled by one company acting alone. However, if best-in-breed technologies can partner together in a complementary way, align behind a common goal and focus on what needs to be put in to achieve something that lasts, these challenges start to seem a lot less daunting than they did before.
If an entrepreneur can use a single book to ignite a multibillion-dollar company, just imagine what we can all do in partnership for our clients together!
To find out more about Currencycloud Fuse you can contact me here.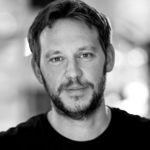 By:
David Reiss
David has been an ever-present figure at Currencycloud since the early days and has held a number of roles during his time at the company, including Head of Client Support and Head of Solutions. His depth of knowledge of the Fintech industry and the nuances of cross-border payments would have you finding it hard to believe he was once a trainee solicitor. These days he is our Programme Director for Strategic Partnerships, working with the Currencycloud partner ecosystem to deliver best-in-class cross-border payments solutions for end users.