I'm very excited to be writing today to share the news that Visa is acquiring Currencycloud. This is a great day for our employees, our customers, and the broader financial services industry as we embark with Visa on the next phase of our existing partnership to improve the experience of moving money across borders.
Currencycloud was founded with a vision to re-imagine the way money flows globally for businesses. Moving money across borders shouldn't be hard, and yet many companies and small businesses still feel the pain of slow, expensive and opaque payments and foreign exchange. By removing many of these barriers, Currencycloud's APIs have today enabled processing of over $100 billion in transactions on behalf of some of the boldest names in Fintech and finance, from challenger banks to remittance and fintech companies.
The past year in particular has been phenomenal – we continued to grow our business, attracted over 100 new clients and employees, as well as expanded into APAC with our first office in the region in Singapore alongside an updated global brand. We continue to hear from customers and the wider industry how much they value the expertise we deliver to their businesses.
And yet with all these accomplishments there is still so much more untapped potential and room for growth. In 2019 we struck a partnership with Visa. Since then, we've worked closely together, discovering a shared passion for taking the complexity and opacity out of cross-border payments. In Visa we found a partner who is not only dedicated to improving financial services, but one that is just as dedicated to their employees and committed to the same values and principles as Currencycloud.
At Currencycloud we've always strived to deliver a better tomorrow for all, from the smallest start-up to the global multi-nationals. Re-imagining how money flows around the global economy just got more exciting as we join the Visa family. The combination of Currencycloud's Fintech expertise and Visa's network will enable us to deliver greater customer value to the businesses moving money across borders.
Rest assured, the Currencycloud you know and love will still be here. Our vision, strategy, leadership and brand won't change as we continue our journey, and I will stay on as CEO.<
Every Currencyclouder past and present should be proud of what we've accomplished and what we are yet to accomplish. There is still so much to do, and together with Visa, the possibilities are endless. I look forward to what the next phase will bring and can't wait to get started.
Mike Laven, CEO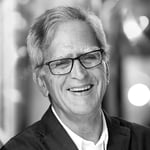 By:
Mike Laven
With almost 30 years' experience at the helm of a number of high growth fintech and technology businesses, Mike is well-known for his ability to build venture-backed organisations and lead them to profitable growth. Having originally spent six years working for the United Nations, Mike has since gained a glowing reputation for fintech expertise, with executive roles at Infinity Financial Technology, Cohera, Coronet and Traiana. Mike joined Currencycloud in 2012, and as CEO is influential in growing the firm to become a leader in embedded finance.