Wealthtech, also known as wealth management technology, is slowly transforming the investment management industry, from retail trading platforms to technology used by online brokerage firms and financial advisors.
One of the best-known wealthtech platforms, Nutmeg, now has $1.5 billion of assets under management and recently announced that it had secured funding from Goldman Sachs to the tune of a whopping $58 million.
No longer the new kid on the block, wealthtech platforms are beginning to diversify into multiple strands in its own right as firms seek to differentiate their services in an increasingly crowded market.
As Nutmeg's founder Nick Hungerford recently stated: "There are circa 550 'Nutmegs' around the world now and it's hard to see how they can all compete when customer acquisition costs mean that payback is not instant."
Read more:
Beyond widely accepted and well-understood aspects of wealth management, such as robo-advice and investment platforms, wealthtech firms are building capabilities such as micro-investment, robo-retirement and digital brokerage, all designed to attract and retain new customers.
Growth through smart technology
In particular, firms aim to widen the net by providing services that appeal to younger customers as well as investors that fall outside the high net worth individual (HNWI) segment. As successful wealthtech firms have shown, it is smart technology that will enable this growth and differentiation.
The traditional model of a one-to-one, face-to-face relationship between advisor and client still exists. However, a growing number of people expect the same automated, yet personalized customer experience they receive in other areas of their lives, such as online retail and some of the more innovative financial service providers.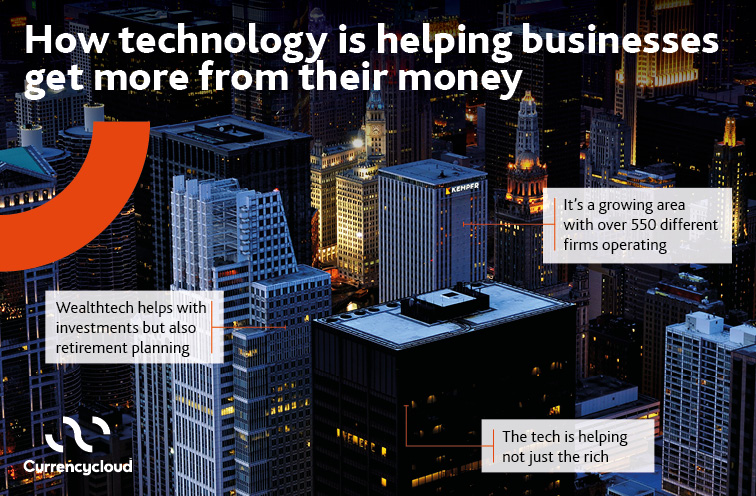 Disrupting the status quo
Stash is an example of a micro-investment platform that enables customers to invest small amounts of money on a regular basis without having to pay a commission. Instead, users pay between $1 and $9 a month to access the platform, which includes financial and investment education tools as well as lifestyle tips.
Robo-retirement, which helps individuals manage their savings plans more effectively, is provided by firms such as Betterment. By understanding individuals' appetite for risk, funds available and future expectations, companies can automatically create investment portfolios most likely to deliver desired outcomes. Betterment's own data suggests that 'retirement recommendations could increase returns by 1.48% compared to those of the typical investor'.
Leveraging points of difference
Digital brokerage, which helps retail investors gain easy access to stock market information and investment opportunities, is another area that creates a point of difference for wealthtech firms.
Social trading platform eToro, for example, enables users to connect with other traders and discuss trading strategies. Its CopyTrader technology even allows users to automatically copy other peoples' trading portfolio performance.
Robinhood, a platform that enables traders to invest in stocks, ETFs, options, and cryptocurrencies, commission-free, from their phone or desktop, is another leading trading and investment platform that is pushing the envelope. Traders can start with simple transactions, learn from their experiences and move up to next level investments with access to professional research reports.
A growing range of services
In addition to developing platforms that create opportunities for more people to invest at a low cost, wealthtech firms are also providing a growing range of services. These include news services, AI, machine learning, and robotic process automation, as well as FX and cross-border payments, encouraging clients to stay on-site once they have logged on.
Driven by smart technology, wealthtech is a segment of the overall fintech market that will continue to grow and evolve, servicing not just millennials but anyone who wants an easier way to make their money work harder for them.
Modular, cloud-based payments technology is the way of the future, and the fintech companies that don't embrace this new payments era will quickly fizzle out.
Our new guide, "Why the future of payments is modular and cloud-based" will tell you everything you need to know about the latest innovations in the payments world.