No two brokers are alike. But we've found a lot have one thing in common: a misconception that they have to adopt Currencycloud's whole suite of FX products to stay competitive.
Well, they don't.
Like a kid in a sweet shop, brokers can 'pick 'n' mix' the parts that best suit their and their clients' needs. They can choose modules to help them keep ahead, open more revenue streams, protect against risk, and be more flexible.
Stay ahead of the pack with plug and play FX
It's not complicated or time consuming – it's easy to fill the gaps in any brokerage's business model or platform. Brokers can simply choose the solution they need, then plug in and build a robust all-in-one platform. It's a modular approach that's built around the way they do business, not what 'works' for us.
Here to help brokers make their next bold move
We've spoken to hundreds of brokers who've told us that the ability to serve clients 24/7, have access to real-time wholesale FX rates, mitigate liquidity risk, and being able to make local collections in USD, GBP, Euros and CAD would transform their business. The good news is, Currencycloud has a module for each: so brokers can pick just one, two, or the whole lot, and stay ahead of the pack.
Just take your pick
The Currencycloud platform is designed in a modular way for any size of FX business, offering capabilities from currency coverage to local collections and payments. It's all about helping you keep competitive and secure, without selling you things you simply don't need. Currencycloud is helping brokerages of all stripes to further enhance their offerings. Which functionalities below would you pick?
Access new markets: leverage our regulations & compliance
Existing clients looking to expand their global footprint can access new markets such as the EU or US by partnering with us and taking advantage of our existing regulatory licenses. As new markets are unlocked, new opportunities unfold.
Collect faster, better : with Local collections (GBP/USD/EUR/CAD)
Local Collections is ready-made to speed up collecting money in the US, the UK, the Eurozone and Canada. Brokers can stand out in a crowded marketplace by offering a local, cheaper solution for collecting funds. Even better, Local Collections is easy to integrate into an existing platform and is fully customizable.
Give clients FX seven days a week: Weekend FX
Currencycloud Weekend FX is new (and exciting). It gives brokers the ability to lock-in competitive FX rates and create conversions on the weekend, allowing them to seamlessly serve their customers seven days a week, using the same APIs.
Backed by, and built in partnership with VISA, Weekend FX enables brokers to get rates and convert currencies during the weekend, exactly as they would any other day of the week – and raise extra revenue by operating over the weekend. They don't have to manage FX risk, and there are no scary surprises – the rate is the same on Monday as it is on Friday.
Spread your counterparty risk: with Liquidity Redundancy
Banks constantly adjust their risk appetite. Make sure you've got yourself covered in case banks pull the plug overnight. We developed our Liquidity Redundancy modular service to give brokers back-up so they can protect themselves should the unexpected happen.
Keep track of all transactions: SWIFT gpi payment tracking tool
Currencycloud is a member of SWIFT gpi. This means brokers can get access to the SWIFT Payment Tracking tool and have visibility over any of their SWIFT payments that are gpi enabled to see which banks are processing each payment. They can track in real-time the status of a SWIFT payment with a complete breakdown of the charges deducted at each point in the journey and see where the payment is at any time on its way to the beneficiary – just like a parcel.
Offer more choice: Currencycloud Spark
Brokers can take their cross-border payments to the next level with Currencycloud Spark . It provides multi-currency accounts so they can collect, store, convert and pay in more than 35 currencies. They can receive funds in different currencies using unique account details, ensuring even more efficiency and peace of mind. Currencycloud Spark enables brokers to realise their global ambitions faster than they'd ever imagined.
Build your modular future
Brokers can maintain the edge in a fiercely competitive market by adding on services as and when they need them, without disrupting the day-to-day workflow. Moving money around the world from payments to collections can be easier, smoother, and more financially rewarding than brokers imagine.
Currencycloud's robust, modular and easy-to-integrate technology platform is easy to build on. In addition to the technology stack, brokers get access to a wide portfolio of currencies, competitive FX rates, FX forward contracts, and vast local payment corridors. So they can expand currency offerings and reduce costs for their customers.
Contact Jake Gosheron at Currencycloud to see how a modular approach can help you collect, pay, convert and manage funds – and keep you ahead of the pack. jake.gosheron@currencycloud.com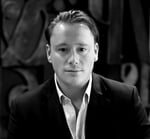 By:
Jake Gosheron
With over 5 years of business development experience in Fintech and FX, Jake has extensive knowledge of the complex challenges of cross-border payments. Having previously worked for XE.com and Freemarket, Jake is well placed to understand the requirements of brokerage businesses and help them with strategic solutions to improve their services to clients.