Needless to say a lot has changed since March 2020. The Covid-19 pandemic has resulted in the largest global upheaval in my lifetime, touching the lives of pretty much everyone on the planet. With governments worried about the public health crisis shutting down whole sectors of their economies in order to stop the spread, a huge amount of uncertainty has resulted for people's finances.
For many, working from home has become the "new normal" – remember that phrase? That has meant we've had to adapt to remote working and everything from expenses, team calls and meetings to payroll has had to go online. For some this will be nothing new. Indeed, digitization and digital transformation have been trends for a while now. The pandemic has just accelerated this – after all, the last thing anyone wants to worry about is getting paid. Digital is no longer an option; it's survival.
The Covid-19 pandemic has also caused many firms to realize that their employee's wellbeing is in their best interest too, be that their physical health, mental health or indeed their financial wellbeing. So whilst many businesses have invested in setting up their employees with desks, chairs, screens and other equipment to work from home, others have gone further and invested much more in helping employees.
Remote work and the challenge of global payroll
Twitter, Facebook and Square announced a while back that their employees can now choose to work from home permanently, whilst other firms are utilizing new technologies to increase financial freedom. On-demand wage providers, or salary finance as it's known in some parts, are allowing people to draw down and access their own earned wages. Popular in places like the Unites States and India before the pandemic, allowing workers to access their pay when they need it is a growing market.
Firms are realizing that at a time where financial instability is all around us, increasing financial freedom can be transformative.
Additionally, the penny has dropped that when businesses become remote first, it's not just about work from home but work from anywhere. In the last few years we've seen a huge increase in digital nomads across certain industries where all you need is a laptop and an internet connection. Without having to commute to the office every day, some have taken the decision to not just move away from their urban hub but to move internationally. To sit on a beach in Brazil or Barbados and work from their laptops rather than sit at their kitchen table in a cold, grey London. (My best friend has done this – I'm not at all jealous).
The trouble is how to manage the complex task of employing workers in many different countries; the complexity of the different tax regimes, expectations for when payroll is run and how often and the difficulty of ensuring the employee receives their full pay without incurring high FX charges etc.
An API driven future for cross-border pay
As we've seen, the move to flexible working and flexible finance is only being accelerated by the pandemic. We shouldn't ever go backwards to the old ways of a brown paper envelope containing a paycheck (I remember mine – £3.50 an hour for working in an orthopaedic shoe shop. It really wasn't worth it).
But global payroll, salary finance and other innovations in flexible working require infrastructure that delivers convenience and speed. That infrastructure hasn't existed in the past. Paying people abroad used to be hellishly complex, slow and expensive. Allowing people to access their own salaries used to require a benevolent boss and a friendly bookkeeper.
That is changing. With a new API driven technical landscape the world is getting smaller and more convenient. People expect to get paid in the same way, at the same speed, regardless of if they're on a beach in Brazil or at their kitchen table in London (I promise I'm not bitter).
And why shouldn't they? There are plenty of innovative firms out there that allow employees, contractors or freelancers, to get paid seamlessly wherever they happen to be working. It's great to be at the forefront of this innovation, helping RemoteTeam.com and others provide multi-currency support to their clients.
This is why I love what we're doing now at Currencycloud. Working to embed cross-border finance in global payroll and salary finance is enabling people to live better lives, with more freedom and more security.
Makes the grey, rainy days in London worth it!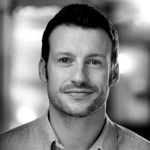 By:
James Teodorini
James is the champion of all things Paytech at Currencycloud, leading our business development efforts into an exciting and growing niche of Fintech. James discovered his passion for Fintech whilst working for US start-up Button and soon founded his own tech firm, Demo Reality. James is a keen golfer and a big boxing fan though won't claim to be excellent either!