What makes a Neobank brand stand out? So far at least, the main factors have included ease of use, low fees, superior customer service and the novelty (or kudos) associated with owning a new and different card design or banking app.
The stainless steel credit cards offered as part of the N26 Metal premium product, Starling Bank's portrait format design and Monzo's neon orange payment cards have all made the headlines.
And when ANNA planned its new business account for SMEs in the creative industries it chose to make it stand out by designing its debit card to literally 'Miaow' when presented for payment. While owning a card that sounds like a cat is fun in itself, ANNA brings much more to the Neobank party in its use of artificial intelligence and automation.
According to Oliver Wyman's recent report entitled 'State of the Financial Services Industry 2019: Time to Start Again', a Neobank's biggest weapon is its 'digital first' business model. The report says that while it takes a traditional bank three days to open a customer's current account, the same process takes less than 24 hours at a Neobank. Similarly, a new service can be launched within two weeks by a Neobank, but it takes between three and six months for a traditional bank to deploy one.
Neobanks like ANNA have a key advantage in that they are not restrained by legacy technology platforms. This means that they can react quickly to changing customer expectations, building market share and attracting more investment to keep developing their propositions as a result.
Waking up to the challenge
However, traditional banks have now woken up to the Neobank challenge. Some are adopting what Oliver Wyman calls a 'greenfield' approach, whereby they build a completely new digital-first bank of their own. In many cases the budgets involved are significantly higher than the venture capital originally secured to launch Neobanks.
For example, Goldman Sachs launched its Marcus digital offshoot in late 2018 with a promise to offer higher savings rates to customers; while RBS announced a new mobile and internet brand called Bó.
Other banks are adopting platform models that enable them to collaborate with innovative start-ups via open APIs – or are acquiring companies to give them the technology they need to retain customers. Barclays Bank's partnership with MarketInvoice is a classic example.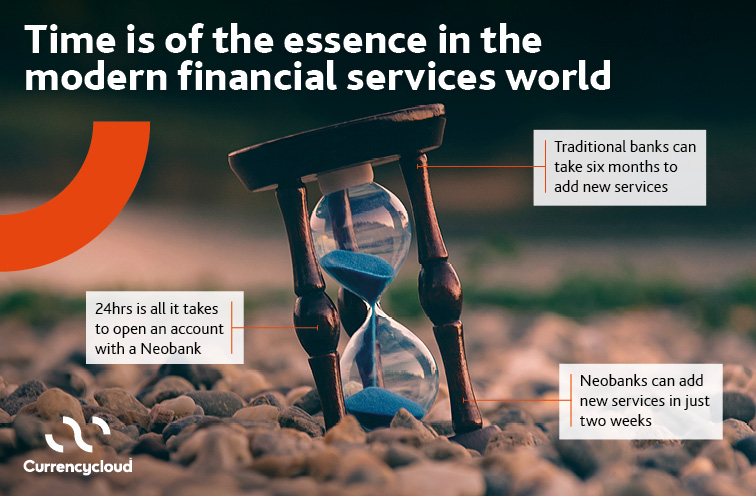 Whichever path they take, banks will consistently improve the service they provide and the Neobanks' advantage of having a new approach or smarter tech will start to fade.
As a result, the battleground is changing. As well as offering new disruptive solutions, NeoBanks are increasingly expected to broaden their offering to match and improve the core services provided with a traditional bank account. Neobanks are beginning to move into credit services, cross border payments and foreign exchange, for example.
And to retain customers and attract new ones, Neobanks need to build a reputation and a clear position in the market, especially as so many new ventures with similar propositions are launching in markets across the world. ANNA, for example, is squarely focused on SMEs in the creative industries; Soldo targets parents; and Monese famously supports digital nomads.
Open for business
The fact that Neobanks are built with open APIs from the ground up enables them to extend through collaboration, rather than building new capabilities from scratch. Starling Bank, for example, already enables customers to access third-party payment services such as Google Pay, Apple Pay and Samsung Pay.
Neobanks are in a great position to build an extended service on tried and tested third-party platforms and apps that work together and are regularly upgraded. These platforms include Currencycloud, which is already providing transparent FX services for Revolut and Monese, amongst others.
This extended approach leaves a Neobank with more time and resources to work on its positioning, communications, customer service and ideas, with the end goal of making their customers' lives even easier.
Speak to Currencycloud about and see what it can do for your business