Are all financial services customers ready for a 100% digital experience? The truth is that while digital might be convenient (and reduces the cost of doing business), change often isn't.
Many customers still have a lot of reservations — ranging from security concerns to a general apathy towards changing how they do their banking. Learning how to use a new app takes time, no matter how user-friendly it's designed to be.
Read more:
And despite the impact of digital technology, the human touch is still important for the majority of bank customers. A recent survey from UK bank CYBG found that 81% of respondents said they would still want to speak to someone, or visit a branch, no matter how advanced technology gets.
Even younger generations would prefer not to see an end to human contact, despite assumptions to the contrary. CYBG's research shows that 78% of 16-34 year-olds value speaking to a real person when carrying out their banking tasks. Part of the reason for that could be that they have not yet built up the same trust with digital first fintechs as they have with traditional banks.
Banks have trust on their side
Transparency is integral to building trust and driving adoption in the digital economy. While the banking industry has suffered from reputational damage because of the financial crash, IT failures and ongoing cyber incidents, customers still believe that their hard-earned money is safer with a bank than a new start-up.
However, one of the greatest shortcomings of legacy financial institutions is their lack of transparency, particularly when they levy unforeseen and unfair bank charges. Fintechs have the opportunity to capitalize on this situation and to be as open and transparent as possible.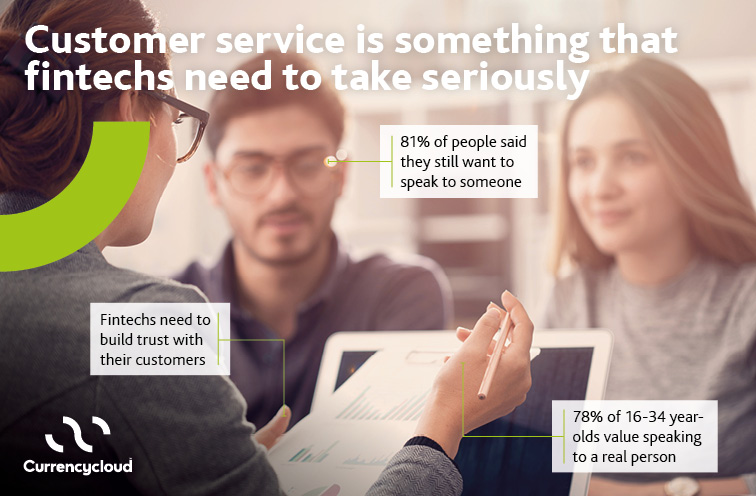 Adoption of digital financial services will not occur overnight. Fintechs need to take a more customer-centric approach, taking into consideration a reluctance to change even when a better option exists, a need for some level of human interaction to build relationships and garner trust, and to be more transparent in their offerings.
Fintechs offer smarter banking
Many fintechs are striving for a 100% digital experience and are pushing for a change in behavior that not everyone is ready to make. The so-called 'trust deficit' still exists in the minds of customers, so even when they decide to try out a Fintech for a new experience, they often maintain their relationship with their traditional bank.
Some observers believe that fintechs are in something of a honeymoon period – and that tough regulation is preventing many from stepping up to take deposits and become fully functional banks.
Yet there is still plenty of room to disrupt new and different areas of financial services beyond current activities, especially as customers become more used to taking control of their money via innovative apps. Fintechs have lower overheads and margins than banks that enable them to offer cheaper services and low charges, as well as smarter technology that enables them to offer a more personalized service.
Whichever direction fintechs take in the future, there is no doubt that they need to be more customer-centric and find ways to automate back end processes and/or build third-party components into the service they provide. This will free up resources so they can spend more time focusing on customer needs and taking the time to build personal relationships with them.
Modular, cloud-based payments technology is the way of the future, and the fintech companies that don't embrace this new payments era will quickly fizzle out.
Our new guide, "Why the future of payments is modular and cloud-based" will tell you everything you need to know about the latest innovations in the payments world.