Are today's banks capable of delivering the experience that customers now demand? Or has the bar been set too high by higher customer expectations driven by the arrival of digital banks and Fintechs?
There's no doubt that meeting demand for a faster, more seamless customer experience (CX) is high on the 'must-do' list for senior leaders of traditional banks.
But while their biggest challenge may no longer be senior buy-in, banks are still held back by legacy technology that can eat up as much as 80% of IT budgets. They are also hampered by a skills shortage driven by high demand for CX specialists and software developers.
Read on:
For the past few years, banks have sought to bridge this innovation gap by partnering with academia and the developer community, via hackathons and through open competitions for new concepts. They have also run innovation labs in-house or put schemes in place to source ideas submitted by employees across the board.
Some have gone even further by setting up new digital-first bank brands that seek to capture existing or new customers tempted by the innovative CX provided by Neobanks.
Lowering the risk of innovation
These approaches can be risky, from both an investment and a reputational point of view. Nor do they address the core challenge that banks need to keep their day-to-day systems up and running while still finding the resources to innovate.
This is why an alternative – and increasingly popular – approach is to partner with innovative third parties to provide the CX that customers want to see from their banks. It's a strategy that has already paid dividends for nimbler, more open Neobanks.
Starting the Payment Engine
Currencycloud's Payment Engine, for example, has already enabled online-only banks to rapidly expand their business to include foreign exchange, payments, and transfers. Crucially, it does so without forcing those banks to invest in costly infrastructure improvements.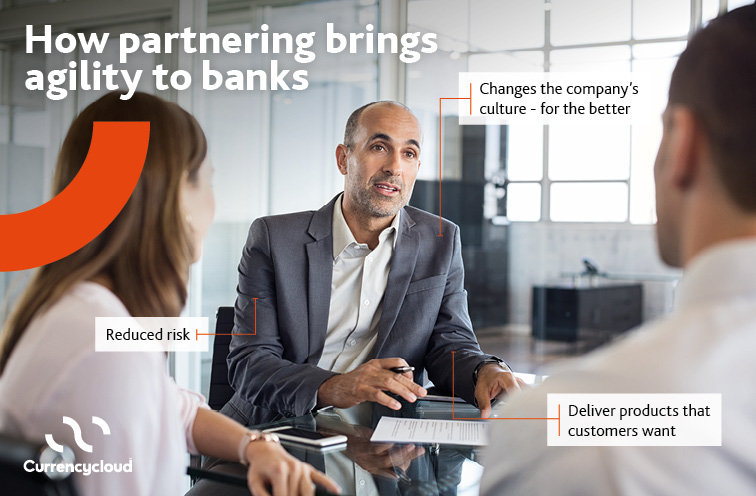 As Lewis Nurcombe, Head of Digital Banking at Currencycloud explains: "The partnering approach means banks can collaborate with innovative third parties to put together a new solution nimbly and effectively. They can launch a new solution or app without touching anything else and without hiring new permanent developers."
The new 'agile'
However, partnerships are about more than plugging in new functionality. To succeed, banks also need to think and act differently. The concept of 'agile' does not just apply to the software development process, but effectively needs to permeate a bank's whole culture.
"It's about being more willing to be adaptive and collaborative," Lewis says. "We are seeing many more banks approach us that are serious about new ventures and looking to genuinely partner. Those that are succeeding have their eye on the prize – they stop worrying about losing control, as they have in the past, and focus on getting something customers want out into the market and working well."
Unleash your potential
As EY.com writes in How Banks Can Unleash the Potential of Fintech, this new thinking could even involve ditching traditional planning processes, advising: "Don't let risk-reward timeline conflicts derail planning."
It may take some time for most traditional banks to change their fundamental corporate personalities. By opening up partnerships with trusted third-party innovators, they can certainly reduce risk while gaining rewards in the form of a satisfied customer base.